Use System Restore to Undo Changes if Problems Occur
Every time you download or install a new game, application, or software update, you make changes to your computer. Sometimes that change may make your system unstable. Have you ever wanted to go back to the way it was? With System Restore, you can.
System Restore works a lot like the Undo command in Microsoft Word. You can use System Restore to remove any system changes that were made since the last time you remember your computer working correctly. System Restore does not affect your personal data files (such as Microsoft Word documents, browsing history, drawings, favorites, or e–mail) so you won't lose changes made to these files.
To undo changes you've made to your computer
Before you open the System Restore console, you may want to save your work and close all programs since System Restore requires you to restart your computer.
Click Start.
Point to All Programs.
Point to Accessories.
Point to System Tools.
Click System Restore.
From the Welcome to System Restore screen of the System Restore Wizard select Restore my computer to an earlier time. Then select the date you created the restore point from the calendar in the Select a Restore Point screen. All of the restore points you created and you computer created on the selected date are listed by name in the list box to the right of the calendar.
Note: System Restore does not replace the process of uninstalling a program. To completely remove the files installed by a program, you must remove the program using Add or Remove Programs in Control Panel or the program's own uninstall program. To open Add or Remove Programs, click Start, click Control Panel, and then click Add or Remove Programs.
Visual aid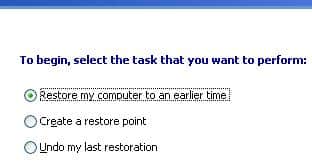 How to create a System Restore point manually?
Though System Restore checkpoints are created every 24 hrs, there are certain criteria which is discussed here. Due to these limitations, one should depend on these two methods:
1. Manually create a System Restore point. More Info.....
2. Backup the whole registry using ERUNT before you install a software. I run the ERUNT Autobackup which backups up the registry daily / automatically during the first startup for the day.