Take a complete registry backup using ERUNT
ERUNT (The Emergency Recovery Utility for NT) helps you perform a complete Registry Backup and Restore in Windows NT/2000/2003/XP/Vista.
You can use this utility as a primary registry backup utility, apart from System Restore. ERUNT can be downloaded from Majorgeeks or from Lars' site.
Download ERUNT and install it. ERUNT sets up a shortcut in the Startup group, that backs up the registry for the current day, during the first Windows startup for the day. This feature is provided by Autoback.exe add-on for ERUNT. Learn more about this from the Readme page
To manually backup the entire registry using ERUNT, try this:
1. Click Start, Run and type the path to ERUNT.EXE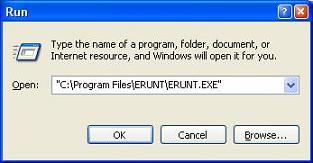 2. Click OK in the next dialog.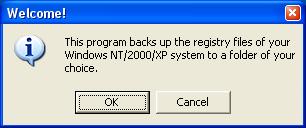 3. Put a checkmark near all the three items, and set the backup destination. Then, click OK.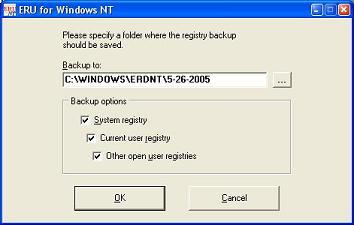 Entire registry is backup up. Click OK in the resulting dialog.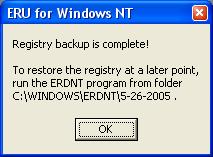 The registry hives - Software, System, SAM, default, NTUSER.DAT (for the currently logged on user profile) are backed up to the chosen path. You can learn more on Registry Hives from Microsoft website
Related pages
Backup your Windows Vista Registry daily using ERUNT
How do I create a System Restore point?