Show all the Favorites in IE, rather than displaying the most used items only
When you click the Favorites menu in Internet Explorer, only the recently-used favorites items might be displayed. You need to click the chevron to get all the items displayed.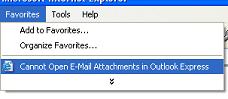 To disable this behavior and to make all the favorites show by default, disable the option "Enable Personalized Favorites Menu" in the Internet Options Advanced tab.
Open Internet Explorer and click Tools menu

Choose Internet Options, and click the Advanced tab

Under Browsing, uncheck Enable Personalized Favorites Menu

Click OK to close the dialog. Close Internet Explorer and restart.